Timothy Murphy, DMD
Bio coming soon!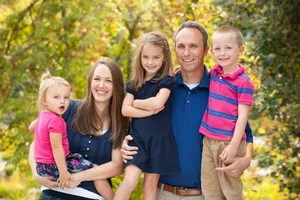 Kyle Miller, DMD
Dr. Kyle Miller was born and raised in Southern California. He has been married to his wife Samantha for almost 10 years. They have 4 children together consisting of twins (Kate and Owen) who are 6 years old, a 2 ½ year old daughter (Joslyn) and the latest addition is Lucy who was born in January of this year. Needless to say the Millers are quite busy with their family. They have enjoyed the slower pace of life here in Oregon since moving here over 2 years ago.
Education
Dr. Miller graduated from the University of Las Vegas Nevada, School of Dental Medicine. Prior to his post graduate dental program he completed an undergraduate degree from Brigham Young University in Exercise Physiology. Dr. Miller then spent the next 2.5 years practicing in Westlake Village California. He practiced family dentistry with an emphasis on Cosmetic Dentistry. He was able to complete many orthodontic and cosmetic cases during his time in California. In order to be able to provide the highest quality dentistry and most up to date procedures Dr. Miller continues to pursue educational opportunities. He has completed hundreds of hours of Continued Dental Education following dental school in order to offer his patients the best options and treatments available. Dr. Miller has taken numerous courses on implants, orthodontics, oral surgery, and cosmetic dentistry to ensure he provides quality and lasting dental care for all his patients.
Memberships
American Dental Association
Oregon Dental Association
Umpqua Dental Association
Hobbies
Dr. Miller loves most sports. He still loves to play basketball and golf when he gets the opportunity. He also devotes a lot of free time to his church and faith. He loves spending time with his family and they always make time to visit extended family.